Showing 1 - 4 of 4 > Page 1 of 1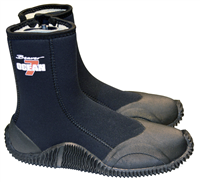 Ocean 7 Hard Soled Boots
The all new Ocean 7 hard soled boots are the latest innovation in top quality diving footwear for which Beaver have been renowned since producing their original styles way back in 1982. The specially designed extra thick soles provide unrivalled comfort, grip and support, the high strength moulding extends at the toe and arch areas, giving superb support and grip. 6.5mm micro-cell neoprene lined with tough nylon jersey outer and titanium plush internal lining maximises the unique comfort and protection from the elements. An integral perfectly positioned heel mounted fin support, provides a suitable attachment for diving fin straps. Heavy duty corrosion free nylon ankle zips with internal thermal gusset ensure a secure and solid fit whilst making the boot easy to put on and remove. UK Size 12, European Size 48 and also available in a wide range of other sizes to ensure a perfect fit from a UK size 3 right up to 13.
Product Options:
Boot/Shoe Sizes
UK Shoe: 12 European Shoe: 47, UK Shoe: 10 European Shoe: 44/45, UK Shoe: 9 European Shoe: 43, UK Shoe: 11 European Shoe: 45/46, UK Shoe: 4 European Shoe: 36/37, UK Shoe: 13 European Shoe: 48/49, UK Shoe: 3 European Shoe: 35/36, UK Shoe: 5 European Shoe: 38, UK Shoe: 6 European Shoe: 39/40, UK Shoe: 7 European Shoe: 40/41, UK Shoe: 8 European Shoe: 42
Product Code(s):
B O 12
,
B O 10
,
B O 9
,
B O 11
,
B O 4
,
B O 13
,
B O 3
,
B O 5
,
B O 6
,
B O 7
,
B O 8
RRP: £32.95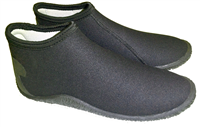 Sea Guard Aqua Shoes Size
The newly upgraded and re-styled Sea Guard Neoprene Aqua Shoes are perfectly suited for use in virtually any water based activity and will ensure superb levels of comfort, warmth and safety. Manufactured from 5mm Super-Flex micro-cell neoprene, lined externally with tough Black coloured High Denier jersey nylon and internally with Grey coloured nylon jersey. Beaver's renowned extra thick soles will provide a superb grip and great protection when walking, even on the most harsh surfaces, further aided by raised toes, heels and instep protection. Perfectly positioned strong rubber fin retainer ensures comfort when wearing SCUBA diving fins. Quick and easy fitting and removal is assisted with the flexibility of the high strength uppers. Ultra comfortable for use on the beach or on the deck, glued and 'Strobel' stitched dry seams maximise thermal insulation. Available in a vast range of sizes between UK size 3 and 13 will ensure a perfect fit. B SG 3 = UK Size 3 - European Size 35/36.
Product Options:
Boot/Shoe Sizes
UK Shoe: 3 European Shoe: 35/36, UK Shoe: 7 European Shoe: 40/41, UK Shoe: 13 European Shoe: 48/49, UK Shoe: 10 European Shoe: 44/45, UK Shoe: 11 European Shoe: 45/46, UK Shoe: 12 European Shoe: 47, UK Shoe: 4 European Shoe: 36/37, UK Shoe: 5 European Shoe: 38, UK Shoe: 6 European Shoe: 39/40, UK Shoe: 8 European Shoe: 42, UK Shoe: 9 European Shoe: 43
Product Code(s):
B SG 3
,
B SG 7
,
B SG 13
,
B SG 10
,
B SG 11
,
B SG 12
,
B SG 4
,
B SG 5
,
B SG 6
,
B SG 8
,
B SG 9
RRP: £19.50
Showing 1 - 4 of 4 > Page 1 of 1