Showing 1 - 2 of 2 > Page 1 of 1

Arctic 200 Gramme ThermoFlex Undersuit
The completely restyled Arctic ThermoFlex under suit, ensures a huge level of thermal protection even in the most extreme cold conditions. The Arctic is manufactured from revolutionary highly efficient 200gsm ThermoFlex material with a 210 Gramme technical fleece interior, quilted together in a 100mm diamond formation. The exterior layer is waterproof and breathable 124gsm durable nylon allowing great freedom of movement.
Product Options:
Suit Sizes
Large, Large Plus, Large Extra Plus , Medium, Medium/Large, Small, Small/Medium, Extra Large, Extra Medium, Extra Extra Large, Extra Extra Extra Large
Gender
Mens
Product Code(s):
AR L
,
AR LP
,
AR LXP
,
AR M
,
AR ML
,
AR S
,
AR SM
,
AR XL
,
AR XM
,
AR XXL
,
AR XXXL
RRP: £105.00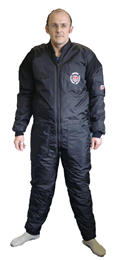 Baltic 100 Gramme ThermoFlex Undersuit
The Baltic 100 Gramme ThermoFlex under suit is manufactured from a light weight 100gsm ThermoFlex material, which is diamond quilted to 210gsm technical fleece producing great levels of thermal protection. The waterproof outer shell is manufactured from 124gsm breathable nylon ensuring unmatched levels of comfort at all times. A cost effective suit ideal for diving in a range of water temperatures and perfectly matched to wear under a vast range of dry suits.
Product Options:
Suit Sizes
Large, Large Plus, Large Extra Plus , Medium, Medium/Large, Small, Small/Medium, Extra Large, Extra Medium, Extra Extra Large, Extra Extra Extra Large
Gender
Mens
Product Code(s):
BA L
,
BA LP
,
BA LXP
,
BA M
,
BA ML
,
BA S
,
BA SM
,
BA XL
,
BA XM
,
BA XXL
,
BA XXXL
RRP: £93.00
Showing 1 - 2 of 2 > Page 1 of 1